Learn Excel 2016 Basic Skills with The Smart Method
Free e-book with video lesson walkthroughs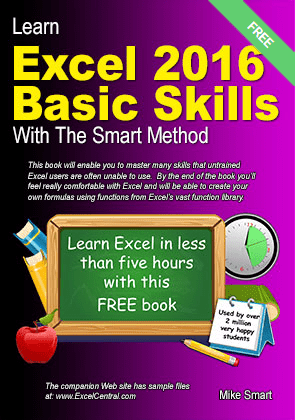 Frequently Asked Questions
Excel 2016 is regularly updated via semi-annual updates. These often add features to Excel. We regularly update our videos to match the current Excel 2016 version. If you downloaded your e-book some time ago it is possible that your book is referencing an older release of Excel. You can download a fresh copy at any time from the free link above.
The January 2018 semi-annual update (version 1709). This version was also released to Semi-Annual (Targeted) channel on Sept 12, 2017 and to the Monthly Channel on Sept 18, 2017. You can learn more about update channels in the free Basic Skills book (Lesson 1‑2: Check that your Excel version is up to date).
40 Free Video Walk-Throughs for use with the free e-book
Our FREE Excel 2016 basic skills book has a free video walk-through for every lesson
It is important to realize that the videos are not useful as a learning resource on their own.  This is because it isn't possible to learn Excel 2016 from a video tutorial for the reasons explained in this article:  Why you can't effectively learn Excel 2016/365 using a Video Tutorial.
You should download the free Basic Skills e-book (and print it if you wish) before viewing any of these walk-through videos.
Work through the lessons in the free Basic Skills e-book.  You should always try to complete each lesson using your book and only consult the video if you have difficulties completing the lesson, to identify where you are going wrong.  Each video shows one of our Excel consultants completing a lesson from your book.