Excel 365 is different to Excel 2016 and Excel 2019
Excel 2016 was sold using both a subscription and one time purchase license (called a perpetual license).  Though it wasn't immediately apparent to some users, Microsoft differentiated between the different version by referring to them as:  Excel 2016 and Excel 2016 for Office 365 subscribers.  This caused confusion because the products were usually referred to with the single generic name: Excel 2016.
At first this wasn't a problem as the products were identical at the start of their lives.  Microsoft then began to release regular updates to Excel 2016 for Office 365 subscribers via semi-annual major updates. By the time Excel 2019 was released the two versions of Excel 2016 had become very different.
Excel 2019 was released (in September 2018) as a one time purchase (perpetual license) product.  This time Microsoft were very clear that Excel 365 (the subscription version) would be regarded as a different product to Excel 2019.  Even on the Excel 2019 release date Excel 365 had more features than Excel 2019 and the products will continue to diverge during the following months and years.  The subscription version will not be referred to as Excel 2019 for Office 365 subscribers but simply as Excel 365.  
We now produce separate books for Excel 2016, Excel 2019 and Excel 365.  While the Excel 2016 and Excel 2019 books will remain the same forever, we publish a new edition of our Excel 365 books every six months to match the new Excel 365 semi-annual releases (in January and July each year).  The new editions  have a different ISBN number and are clearly marked with the version they support.  
The front cover of the first edition of an Excel 365 book with the version very clearly marked: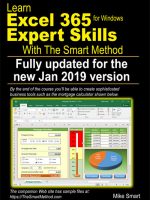 If you pay  for your Office license by subscription you are using Excel 365 and will enjoy the new features published in each semi-annual update as described below: