When opening any Excel workbook file that is downloaded from the Internet Excel will always present you with with the Excel protected view warning:
Be careful – files from the Internet can contain viruses.  Unless you need to edit, it's safer to stay in Protected View.

If you are working through one of our free lessons you will see this warning when downloading a single sample file.
Book purchasers download every sample file at the same time as a certified and digitally signed set.  This method prevents Excel displaying its warning.  Anybody can download sample files in this way so if you are still worried that is one way to step around the problem (more on this in a moment).
Protected view means that the workbook has opened in read-only mode and cannot be edited.  If you trust the source you can click the Enable Editing button and after that the document is trusted (so you won't see the warning again next time you open it).
Is it safe to open an Internet workbook you have downloaded from the Internet?
If the file is published here on TheSmartMethod.com website then yes, it is perfectly safe. 
If the file is opened from another site that you do not trust it really is almost certainly safe as well. It is true, however, that at some point in the future a hacker might find a way to infect a machine from a workbook that Microsoft don't know about yet.  Microsoft are just being ultra-safe and there's nothing wrong with that.
How to download sample files without Microsoft's warning
Our book purchasers download the entire file set for their book via a single digitally signed executable file.  The file that is downloaded is a digitally-signed .EXE file that extracts all of the sample files into the C:/Practice directory when it is run.
All of our sample file sets are digitally signed with an Extended Validation Certificate (EV) conforming to X.509 that proves the legal entity of the owner and is signed by a third party Certificate Authority key that can issue EV certificates. There is no higher level of security than this.  For this reason no security warnings are triggered in the browser when the file is downloaded.
You can download complete sample file sets (as a single digitally signed executable file) by clicking the Sample Files item on the top menu bar.
How to view a digital certificate
The following example assumes that you are using Windows 10.
Download the sample file set (for example Excel365EssentialSkillsThirdEdition.EXE).
Right-click on the file and select: Properties.
Click the Digital Signatures tab.
Select the Digital Signature and then click the Details button.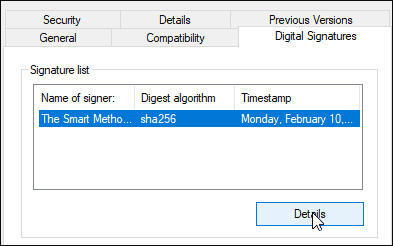 Click the View Certificate button.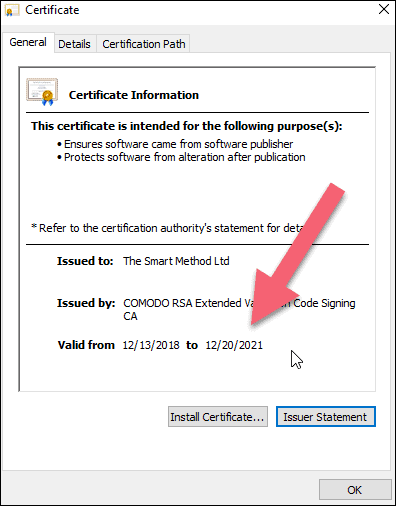 This will give you the confidence to install the sample files.  We do also offer an alternative ZIP file version of the sample files but don't recommend downloading the files in this way (see FAQ on the sample files page for more).