Learn Excel 2013 Basic Skills with The Smart Method
Free e-book and video course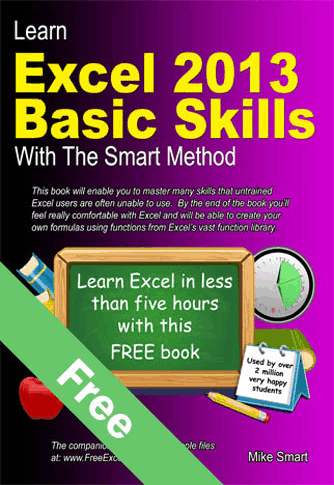 Frequently Asked Questions
Yes. We publish a FREE Excel Basic skills e-book for all Excel versions in common use (including  Excel 2016, 2010, 2007 and Apple Mac versions).  You can download our other free Basic Skills e-books here.
For Excel 2007 and 2010 and 2013 (except Apple Mac versions) we also publish comprehensive video courses that provide an alternative to learning Excel from a book. You can view some sample videos below.
For Excel 2016 (Except Apple Mac versions) we publish free video walkthroughs. These are not stand-alone video courses but are intended to help book/e-book users if they run into any problems completing a lesson.  
Excel 2013 with all updates applied. 
Free Excel 2013 Basic Skills Video Course (47 free Video lessons)
Learning from books isn't for everybody. If you've tried to learn Excel from a book and given up you'll love this video course. The free Excel 2013 Basic Skills video course has been designed as a stand-alone product. It covers exactly the same material as the free e-book. Absolutely anybody can learn Excel 2013 basic skills using this video course. Everything is explained clearly, slowly and simply, from the very beginning.
Use the navigation arrows or search box below to navigate to any of the forty-seven free Excel 2013 Basic Skills video lessons in this course: